How to choose a private fertility clinic
Choosing the right fertility clinic can be an emotional and extremely worrying experience. With this in mind, we have created this guide to enable an individualised search for clinics that match both your personal and medical needs.
---
1. Things to think about when starting your search:
Location:

Your treatment will involve numerous appointments so choosing a clinic close to home or work may suit you better. However, whilst a local clinic may be preferable, it should be noted that not all clinics offer the same specialist expertise and ultimately this may prove to be more important than proximity.



Cost:

Fertility treatment is expensive, so it is important to understand the costs and what is included and excluded in any package offer from clinics. You may find our guide on "Understanding fertility price" helpful and it can be found here.



Success rates:

Whilst this is important, it is worth noting that some clinics are willing to accept more challenging cases even if this reduces their overall success rates. Gynii Search allows you to compare success rates for all the listed clinics. Our guide to "Making sense of success rates" may help you evaluate this information and it can be found here.
---
2. Identifying clinics that are right for you:
Many searches start with the Internet, using key words such as "best fertility clinic in the UK", "infertility clinic near me" or "in vitro fertilisation (ivf) treatment".  Whilst this provides a wealth of information, it can be challenging to identify which sources to trust, and difficult to find data that compares clinics. 

Understanding this, we developed Gynii Search. Gynii Search allows you to compare fertility clinics using a range of metrics such as their facilities, clinic size, doctors' specialities and success rates. It also contains reviews from people having undergone similar fertility treatments themselves. The flow chart below outlines the search process.
---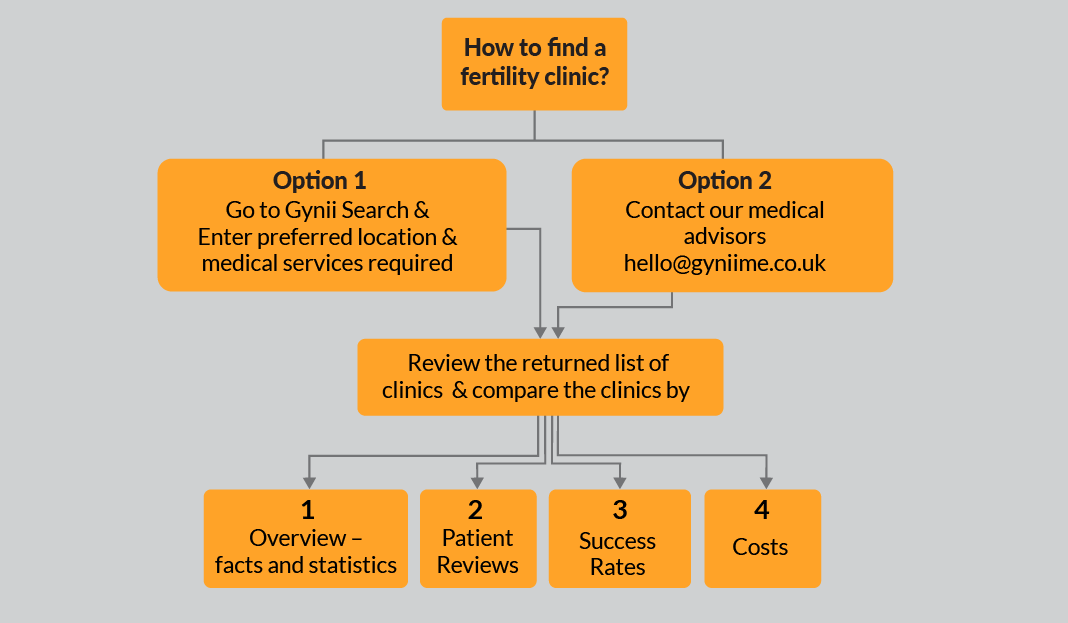 ---
3. Preparing for your fertility consultation:
We suggest that you start by contacting the 3 fertility clinics you have selected, or ones we have recommended. Most clinics are extremely busy, and they may take a while to respond to your enquiry. Whilst some have a receptionist or dedicated team to take calls, others may ask you to leave a message or to email them. It is important that their communication style fits with your expectations. For example, did you feel that they were they professional, replied promptly, and did you feel welcomed?

Before finalising your choice, think about visiting the clinics you have selected (if this is possible). Many host open days or online events and some participate in fertility shows and seminars across the country. Viewing the facilities and meeting their professional team can provide further re-assurance that they align with your personal and medical needs.


Once you have narrowed your search, book a consultation with one or two clinics. The consultation is an opportunity to meet the experts who will be involved in your fertility treatment. For the clinic to be right for you, you should leave feeling confident in their expertise and the support they offer.  

It can be helpful to prepare a list of questions in advance of contacting the fertility clinic. Our guide on "How to prepare for my first fertility consultation" may support your preparation and can be found here. 


If you prefer, our experts can recommend a clinic based on the information you provide. Gynii Me offers a free service at all points of contact and our experts are on hand to guide your choice. Our email address for all queries is hello@gyniime.co.uk and we will respond with a list of clinics, recommended by our medical advisor, within 24 hours.  If you would like our professionals to select the most suitable clinic for your requirements, please include the following information in your email:



You and your partner's age or age range.

Whether you have had IVF treatment before, and if it has failed, the reasons behind this (if you have this information).

Your postcode, if location is a key factor when considering a fertility clinic.

Any fertility tests you have undergone and the results of these.
Whatever your needs, whether you'd just like to chat, or you want us to work with you to recommend or book a consultation at a clinic, we are here to support you and all our services are free. 
---