Increasing demand for employers to provide fertility benefits
A third of young workers aged between 18-34 want employers to provide fertility treatment as an employee benefit, as reported in the Willis Towers Watson Maternity, Family and Fertility Survey.
Almost half of these respondents cite the high cost of fertility treatment as the main reason for this, while other reasons include concerns about restricted NHS coverage of fertility treatment – currently only around 40% of fertility patients qualify for treatment on the NHS.
Respondents also stated that employer provision of fertility benefits would improve career opportunities and reduce the pressure of having children too early.
In the US, around 60% of large firms – those with over 500 employees – offer some form of fertility benefit. Furthermore, 66% of all US employers are expected to offer fertility benefits in 2019, up from 55% in 2017.
Willis Towers Watson's Wellbeing Lead, Mike Blake, believes the UK should look to follow the example of the US in expanding employee healthcare coverage. Since 1 in 7 UK couples have trouble conceiving, Blake says the UK should consider the recruitment and retention benefits of providing coverage for fertility treatment.
"The cost of private fertility treatments can be a significant financial burden, and in some cases, may even prove prohibitive," explained Blake.
However, Blake warns that companies should "tread carefully to avoid a backlash" when introducing new fertility benefits. In particular, he says that offering egg-freezing benefits "has sparked controversy in some quarters and can risk raising suspicions around employer motivations."
"Specialist benefits consultants can advise on the solutions that are available, along with appropriate, sustainable, benefit limits," adds Blake. With 1 in 4 UK workers responding that they would view the introduction of egg-freezing benefits as a ploy to defer reproduction among employees, employers should seek professional advice when considering the inclusion of fertility coverage in their employee benefits package.
---
How does fertility coverage benefit the employer's bottom line?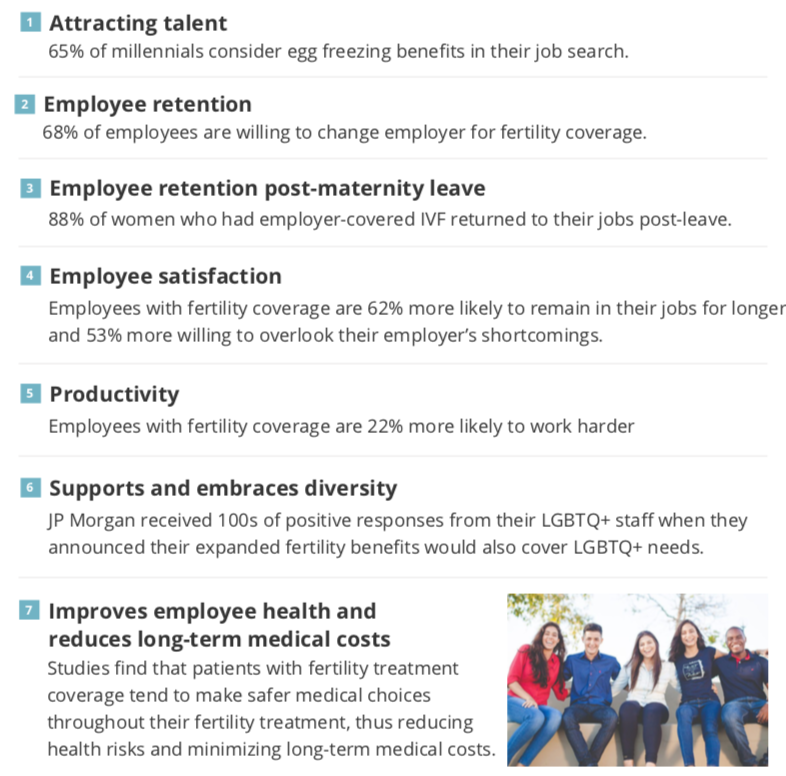 ---
Want to know more?
If you want to know more about designing fertility benefits for your employees, please contact us at hello@gyniime.com or call us on +44(0) 1892 5476 00.
This content was provided by COVER Magazine. To read more, visit their website: <https://www.covermagazine.co.uk/>
About COVER
COVER Magazine provides news, opinion and analysis for the health insurance and protection market. They provide up-to-date information regarding healthcare, employee benefits, life insurance and all other areas of group risk.