Gynii Me Welcomes Tarquin Bennett-Coles as Advisor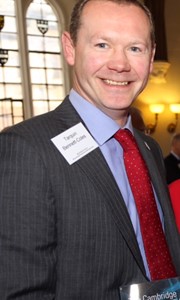 Gynii Me is proud to announce Tarquin Bennett-Coles has joined its team as an Advisor.  The Talent and HR consultant has spent more than two decades selecting staff for senior roles in Life Sciences, Healthcare and related sectors.
Bennett-Coles will take the lead in developing the company's Fertility Health Support Employee Benefits programme for company clients.
Gynii Me MD Carrie Yang said: "We are excited to welcome Tarquin to our team. He brings a deep understanding of organisational structure and talent attraction, in addition to a wealth of experience with retention strategies and employee benefits.
 We are working with Tarquin because many of our existing company clients are aware their culture and working practices have to change. Huge societal disruptions, such as coronavirus and even Brexit, are putting more emphasis on a better work and family balance.
We are already seeing organisations expand their employee benefit schemes to include fertility treatment. With Tarquin's help Gynii Me is helping corporates adapt to this new normal."
Cambridge University-educated Bennett-Coles is currently Senior Consultant at executive search company, George James Limited. He was previously Global Talent Scout at AstraZeneca.
According to The National Institute for Health and Care Excellence (NICE) one in seven UK couples need fertility treatment today. More than half of this treatment – such as IVF – is funded privately. Employers who can offer benefits to support employees undergoing treatment are able to attract and retain diverse talent, boost productivity and reduce long-term medical costs.
Bennett-Coles said: "The growth in working from home due to the pandemic has reset what is important in many people's minds.
To support staff and promote equality, diversity and inclusion companies need to change their approach to what they offer their employees. Fertility benefits should be a key component.
I look forward to supporting Gynii Me in getting this message across. Certainly, we can see fertility benefits adopted on a far larger scale across the Life Science industry and beyond."
For more information on Gynii Me and to access fertility services see www.gyniime.co.uk
---
About Gynii Me
Gynii Me is a UK-based company dedicated to supporting individuals and couples through their fertility journey.
It provides value-based fertility solutions combining clinical and emotional guidance, science, technology and data.
Contact: MD Carrie Yang
Email: carrie.yang@gyniime.com or stella.wooder@gyniime.com
Tel: + 0044 7484 7041 71