What is a Gynii Me partner clinic?
The benefits of Gynii Me partner clinics
Taking control of your fertility journey
Understanding which fertility treatment and doctor are best for your specific needs can be stressful. It is natural to feel unsure of what to do, or where to get clear and impartial advice. This can make an already fraught time feel even harder.
Gynii Me aims to make it easier, by giving you the information you need at each step of your fertility journey.
Gynii Search is an online, easy-to-use way to compare fertility clinics. You can select what factors are important to you, and which clinics best meet your specific requirements. For example, you can compare clinics by their success rates, the treatments they offer, and by their treatment prices.
You can also make sure that you do not spend time choosing a clinic that doesn't offer treatment suitable to your personal needs.
By having clear and trusted information, you can make informed decisions, that are best for you.
---
Fertility clinics comparison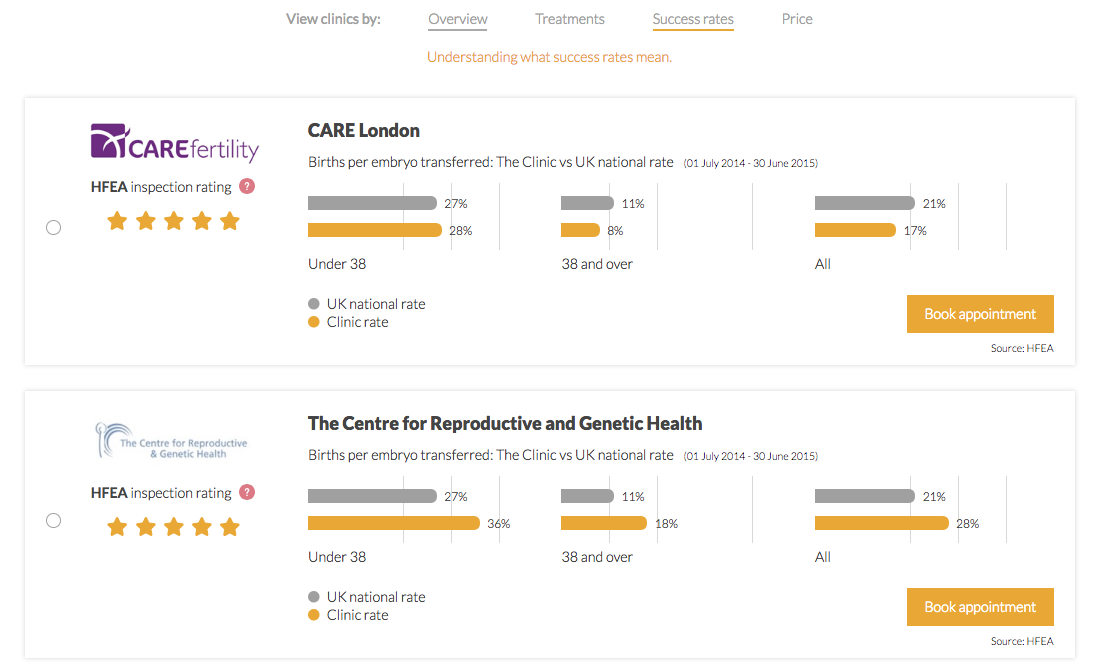 ---
Introducing Gynii Me's partner clinics
Gynii Me provides up-to-date and accurate information on all fertility clinics in the UK. We are also developing partnerships with a number of clinics. These partnerships allow Gynii Me to bring together the elements you need to decide on which clinic is right for you:
transparent pricing, allowing you to see the cost of each element of your treatment;
offered treatments and/or success rates for specific patient groups a clinic serves particularly well;
key information from an independent and impartial view-point.
By working closely with a partner fertility clinic, we can make more information accessible and transparent; as well as making your fertility treatment more affordable.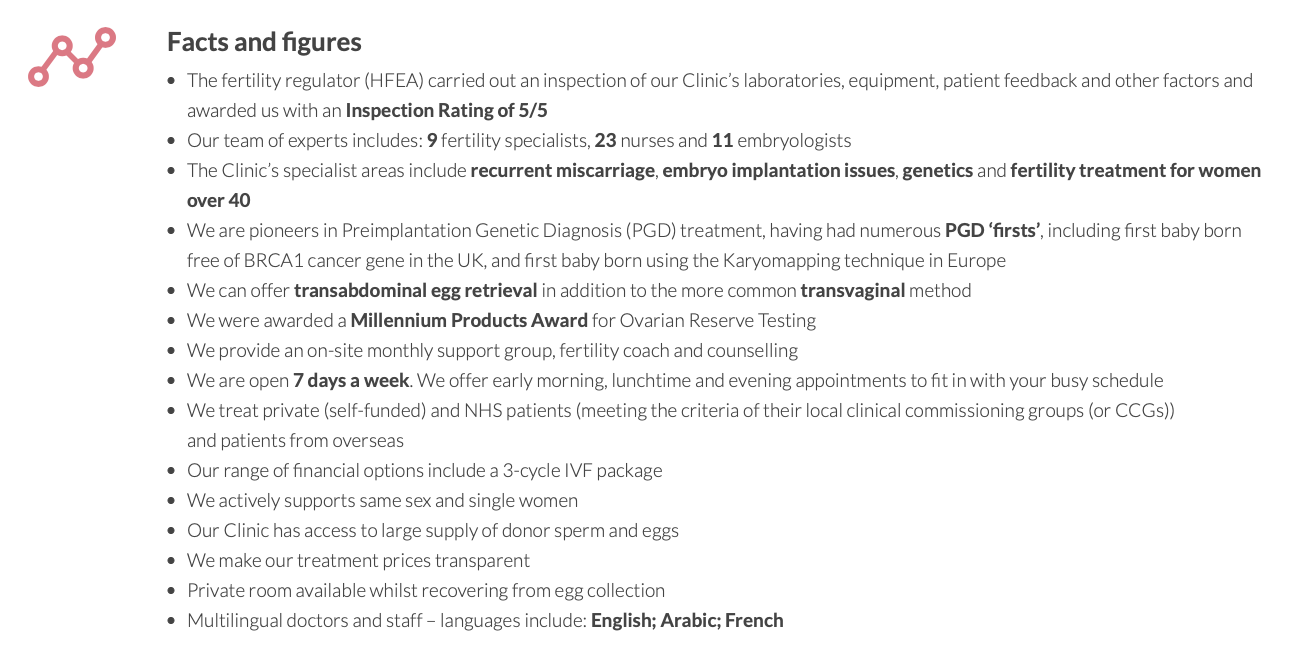 ---
How do we do this?
By assessing the clinics' certifications, doctors' profiles, success rates and regulator ratings, we get to know the partner clinics, which lets us help you to get to know them too.
When a clinic becomes a partner, Gynii Me asks lots of questions. We'll want to know about each member of their fertility team, their specialist interests as well as their research and published work. We will look for detailed examples of their work, treatment success rates and areas of particular expertise (e.g. recurrent miscarriage, male infertility). We analyse the data we get from our partners, so we can share it with you. We also look at their facilities including their lab accreditation. We'll ensure you have the details you need; and that it is easy-to-find and understand.
There's a lot happening in the fertility sector. New treatments are continually being developed. Our close associations with our partner clinics means we can make you aware of new fertility treatments – as well as explain the implications of these new scientific advance - as they become available.
---
How to search Gynii Me partner clinics?
It's quick and easy to spot partner fertility clinics on our website, when you click on "Gynii Search". Once you have finished exploring your options and you're ready to go ahead; remember that you qualify for a discount if you decide to book your appointment with a partner clinic through Gynii Me.

---
We will always do what's right for you
Our mission is to provide a portfolio of partner clinics that provide the diversity needed by individuals seeking fertility advice or treatment.
However, we'll always provide independent guidance and advice. Whether it is one of our partner clinics, or not, we want to match you to the fertility clinic which we believe is the best for you; with details to help you understand why it is an appropriate choice of clinic for you.
We are committed to helping you find the treatment and clinic that is right for you.
---
For Fertility Clinics: How to become a Gynii Me partner clinic
We work collaboratively with fertility clinics, to enhance the information available to women, men and couples who need fertility treatment, in order to help them make better-informed decisions.
If you would like to know more about being a Gynii Me partner clinic and the benefits it brings, please email us at hello@gyniime.com.