Choosing a fertility clinic - where should I start?
How to choose a fertility clinic
Choosing the right fertility clinic for you can feel a little daunting. There may be many questions in your mind:
Where do I start? 
What do I look for? 
What questions do I need to ask?
To help guide you through the process, we'll highlight some aspects to consider, to make the journey easier. We are all different, so think about what feels important for you.
Fertility treatment, such as IVF and other procedures, requires significant investment in your time and trust. It can be a very emotional journey. Being informed about available treatments means that you can understand what is on offer and see how clinics differ.
Where should I start?
Website searches
Gynii Search is a good place to start your search for the right fertility clinic for you; particularly if you are considering fertility treatment for the first time. By clicking on the Gynii Search link, you can seek out fertility clinics by location (by entering a postcode) or an area of specialism (for example, menstrual (period) problems or male infertility) and then compare the treatment options, success rates and prices offered by each clinic.

Going along to a fertility event
Fertility shows are another way to gather information and hear from speakers who are fertility experts. Fertility shows are open events which bring together exhibitors and seminar programmes from a number of different fertility providers. Although they often have a commercial bias, they offer a good way to access clinics, organisations, help and advice, all under one roof.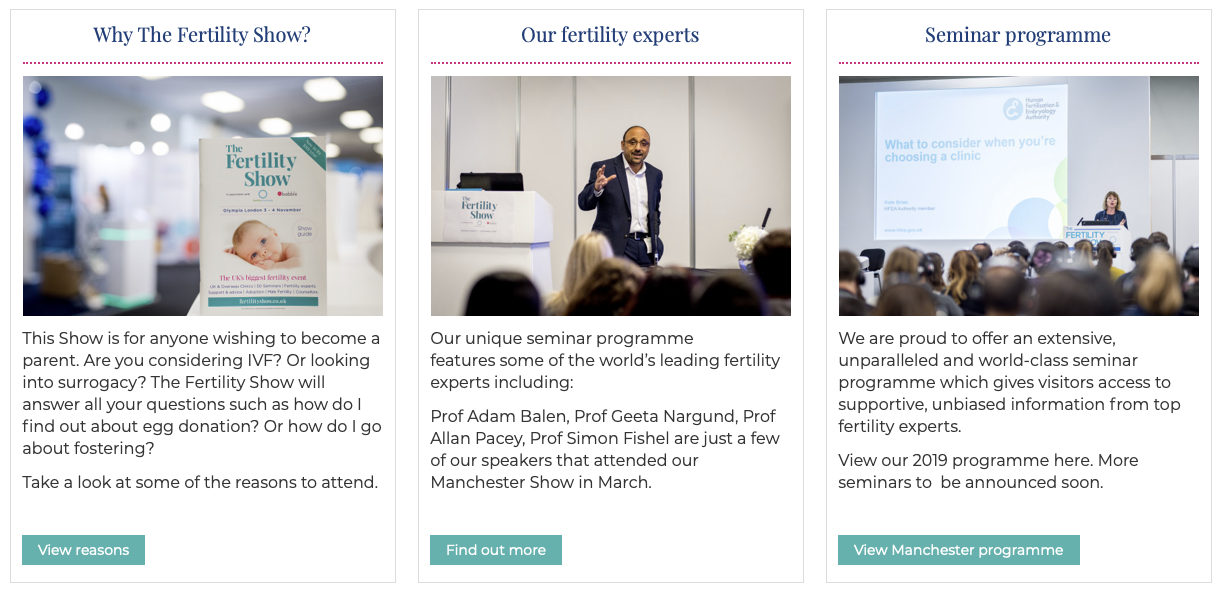 Attending clinic open days/evenings
Fertility clinics frequently hold an open-day or open-evening. Going along to one of these open day or open evening events will give you a chance to:
meet the fertility clinic's team of doctors, nurses and embryologists;

get more information and to ask questions;

become more acquainted with the type of fertility problems that a clinic can help with;

get more familiar with the clinic and get a sense of how friendly it feels.
Some clinics also offer a free tour of their labs and facilities as part of these events.